No exchange or refunds are allowed

Normal Mails are as of $1.50
I will not be liable for lost mails
I strongly recommend registered mails at an additional cost of S$2.25
No trades and items are all brand new unless otherwise stated
**All pictures credited to owners**

Please transfer to POSB SAVINGS 195-26047-8 if need be

Contact Email: rosedeyl@gmail.com
ELF Wristlet
Great for the fashionista at heart. Use it day or night, for an organized purse
accessory or to grab and go at night as a flashy clutch. The removable
wristlet attachment is great for easy access and to carry around.
8" L x 1.5" W x 4.5" H
Available in Burgundy at $11
Guess By Marciano
Material of solid canvas and leather
In good condition 9/10, partial trades welcome

Available in Cherry Blossom at $69, RP at $169
Sony T500 Cyber-Shot Digital Camera
Specifications
ISO: 100 to 3200
Resolution: 10.1 megapixels
Lens: 33 - 165 mm equivalent lens
Video capture: Up to 720p (HD) at 30fps
Connectivity: Hi-Speed USB, HDMI output
Storage: 4MB built-in, Memory Stick Duo Pro slot
Zoom: Carl Zeiss Vario-Tessar 5x optical, 2x digital zoom
Extra feature(s): Face detection, image stabilization, touch screen interface
Package Includes: A/V Cable, USB Cable, Wrist Strap, Battery Charger
Multi-outout Stand, Rechargeable Battery Pack, CD-ROM (including Picture Motion Browser)
Complimentary Rechargeable Battery Pack (Worth $75) + Louis Vuitton Camera Pouch Free Upon Purchase
**Brand New In Box Retailing at $799, Asking Price $699 or "Quote Your Best Price"**
Adidas Floral Dreams EDT 50ml
Adidas Floral Dream Perfume by Adidas, Launched in 2005 and created by
jean pierre bethouart. This fragrance has top notes of bergamot and gillyflower;
a heart of rose and lily with a base of tonka bean and vanilla. Sprayed once to test.

Letting go @ a loss only $19.90



Agnes b Lock & Key Necklace


Authentic from boutique. Signature 'b' print padlock paired with a
functional key made of metal. Comes with a gift box and gift cert
for prove of authenticity. Best gift for 21st birthday present!
Available in Sterling Carbon at $65




Authentic Armani Exchange Electric Tee


Size M, fits UK6-Big 10
Brand New with Tag, Available at $45




LoveBonito Statute High Collared Blouson


Measurements: 13"-18" PTP, 23.5" down
(hem is lined with an elastic band)
Available in Deep Red at $24




LoveBonito Sequinned Toga


Fell in love with everything about this dress. The runches give a flattering & sexy silhouette to any body type & helps hide bulges! Intricate sequins follow through to the back. Extremely classy & elegant! Made with double-layered soft cotton, extremely stretchy. Non sheer.
Measurements: 13"-17.5" PTP
31" down when laid flat, adjustable to 34"
Available in Nude at $33




LoveBonito Printed Ruffled Blouse

An extremely chic and gorgeous ruffled blouson every girl must have!
Pair it with almost everything and look effortless chic. Made of soft chiffon.
Measurement: 15"-17" PTP, 23" down (adjustable straps)

Available in Berry Splash at $26

Hervelvetvase Acapella Silk Cape

Made of gorgeous, luxe silk. Wear it as a cape or an oversized batwing blouse!
Match with high-waist shorts/pants for maximum best effect
Measurements: Approximately 20.5" PTP Across, 23.7" Down

Available in Black at $25.50





Hervelvetvase Cascade Blouse

Made of quality lycra mix. Ruffled front. Linner lining, non-sheer.
Exclusively manufactured by hervelvetvase
Measurements: 17" PTP Across, 24.8" Down

Available in Lilac at $25.50
Hervelvetvase Urban Mini Shirtdress


Made of chiffon/structured cotton, Elasticised hip band, Non-sheer
Measurements: 16.5"-17" PTP Across, 35" Down

Available in Navy at $27
Hervelvetvase Filmore Eyelet Blouse

Made of soft, quality cotton, intricate eyelet details
No inner lining; inner tube/tank advised
Best matched with shorts or a high/waist skirt!
Measurements: Up to 20" PTP

Available in Navy at $25.50
Hervelvetvase Avid Mesh Shirtdress

Made of cotton/mesh, button down
Inner lining: non sheer, complimentary braided tie-string
Measurements: 19-21 PTP, 33" down

Available in Pink at $26.50
Hervelvetvase Cut Out Collar Frock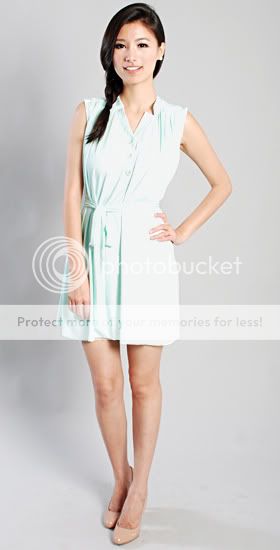 Measurement: Up to 18" PTP, lined at hem with complimentary sash

Available in Mint at $25




Dirty Bling's Strip Maxi

Measurement: Up to 19" PTP (stretchy), complimentary rope sash

Available in Navy/White at $28




Megan's Sweet Toga
14-17" PTP 33.5" Down. Fits up to UK10.
Made of cotton and chiffon. Not sheer as it has a inner lining!
Available in Navy Blue at $22
Duo-Toned One Piece Work Top

Wear it with jeggings and u're all set off to work!
Material: Crystal Hemp + Cotton ( Comes with Complimentary Belt )
Measurements: 15" to 17" ptp, 33" down ( frm shoulder to tip of outer vest)
Available in Black/White at $26

Aeropostale Signature Striped Tee
Contrast of Blue and Lime Green that looks so sporty.
Long Striped Polo. Tagged M/M, Fits UK 6-small 10 best.
Available in Blue at $16
Oversized Boyfriend Blouse
Material is superb and goes well with tights. Definitely worth the money!
Properly lined and well structured. Fits Up To UK Size 8-14
Wear it as a shirt dress for those of petite size.
Available in Pure White & Burney Purple at $23 each, RL at $33 in g2000
Topshop V-Neck Pullover
Thick quality cotton. V-Neckline accentuates your collar bone.
Wear it like an oversized pullover or just by iteself. Tag UK 12.
Available in Pure White at $24
MNG Velour Blazer
Fits UK Size 8- small 12
Velour felt laced with a shiny base inner lining. Two non-functional pockets.
Shoulders are padded for the extra comfort. Only worn once for 1Hr. Excellent Condition.
Available in Chocolate at only $35, RP for over $100 (Its a Steal)
Ice Silk Cotton Upwear
Cotton+Lace Belt (Includes Inner Black Piece), Fits UK 6-12

Available in Yellow/Black at $20
Striped Combination Upwear

Pair with a belt or on its own and u're good to go! Comes with an inner
lining or wear your own tank to mix and match. Very versatile. Fits UK 8-12.

Available in Grey/Black at $15
Gray Sky-Silk Cotton Wave-Collar
Comes with white satin tie-back ribbon and buttons are
in the shape of a half-pearl. Fits UK 8- 12
Available in Sky Gray at $18
Korean Colour-Interval Dress
Outer Black Sheer Chiffon, Fits UK 6-12
Comes with blue satin tie-back ribbon
Available at $18